Our bulk bags are made from woven polypropylene fabric that is FDA approved for use as a food packaging material. The fabric is treated with an ultraviolet inhibitor that helps the bags resist UV degradation from exposure to direct sunlight. The fabric is designed to retain 70% of its original strength after 1200 hours of direct sunlight exposure.

The fabric can be uncoated allowing the bag to breathe or can be coated making the bag nonbreathable. If your product has a high moisture concern a polyethylene liner may inserted into the bag to decrease the moisture vapor transfer rate to an acceptable level.

Bulk bags can be manufactured in many styles and with customizable features to best suite your bag filling station and your customer's bag discharging station. The standard bulk bag style is the U-panel construction with a star closure discharge chute with bottom protection flap.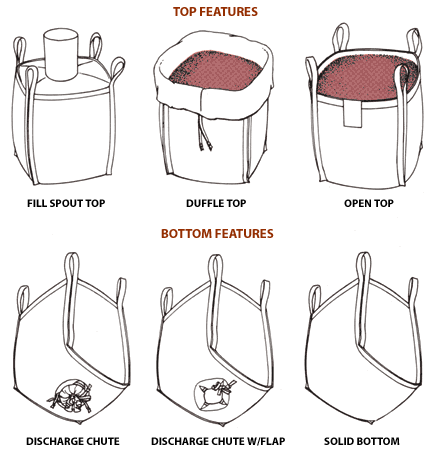 Additional Features
Colored lifting loops to aid in product and package identity
Color printing of your logo and product information
U.N. Certification for bags designed to transport hazardous waste
Liners in tube, form fitted & baffled styles
Liners loosely inserted, sewn in and glued in place
Colored liners
Porthole discharge bottoms with polyethylene sheets covering porthole opening
Slide gate discharge bottoms
Full open discharge bottoms
Diaper closure
Conical top
Conical bottom
Sift proofing (Filler cord and/or webbing/felt)
B-locks for quick release
Velcro closures
Remote discharge