Bio Products
BioBag – The Eco-friendly bag made of natural, renewable resources.
As a well recognized and respected supplier of poly packaging products, Industrialbags.com, Inc. has expanded its line to include an entirely new category of bio-based, biodegradable and compostable bags and films. This eco-conscious decision was born of the desire to be in sync with the environmental concerns affecting all of us and to take a front running position in offering a reliable solution to the changing needs of today.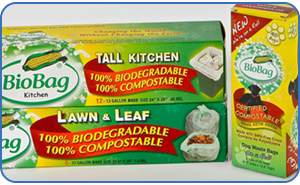 BioBag, is a world leader in providing bags and films for the collection of organic waste for the purpose of composting. Unlike regular plastic, BioBags are made from the starches derived from plants, vegetable oils, and compostable polymers that can be consumed by micro-organisms that live in our soils. Because of this, our bags can also be readily composted along with organic waste in municipal composting facilities. Many municipal composting facilities report BioBags compostability in 10 – 45 days, leaving no harmful residue. BioBag products meet ASTM D6400 specifications for compostable plastics. We additionally meet state and Federal regulations regarding biodegradable and compostable product claims.

Endorsed by Oprah.com and O Magazine as an eco-friendly product to use and start making a difference, BioBag was listed as one of their "17 ways to save money – and the planet".


Click here for additional information.
Poly Products
IndustrialBags.com, Inc. offers an extensive selection of poly bags, covers and liners for a variety of industries including warehousing and distribution centers, construction, lumber and drywall companies, automotive, pharmaceutical and grinding industries, produce, food processing and garden centers.

Industrial Bags also supplies products for state and metro parks and materials for aid in National emergencies.

Please take a look around our site and contact us for more information on how we can help you!